Want to learn to re-energise and re-vitalise exhausted teams with authentic leadership?
Upcoming on The Genos Spotlight Series, join Ciara Aspinall and discover what it really means to lead with authenticity. In this interview-style session, learn what authentic leadership looks like, why it's so important right now at work, and how to demonstrate more emotionally intelligent and authentic leadership behaviours.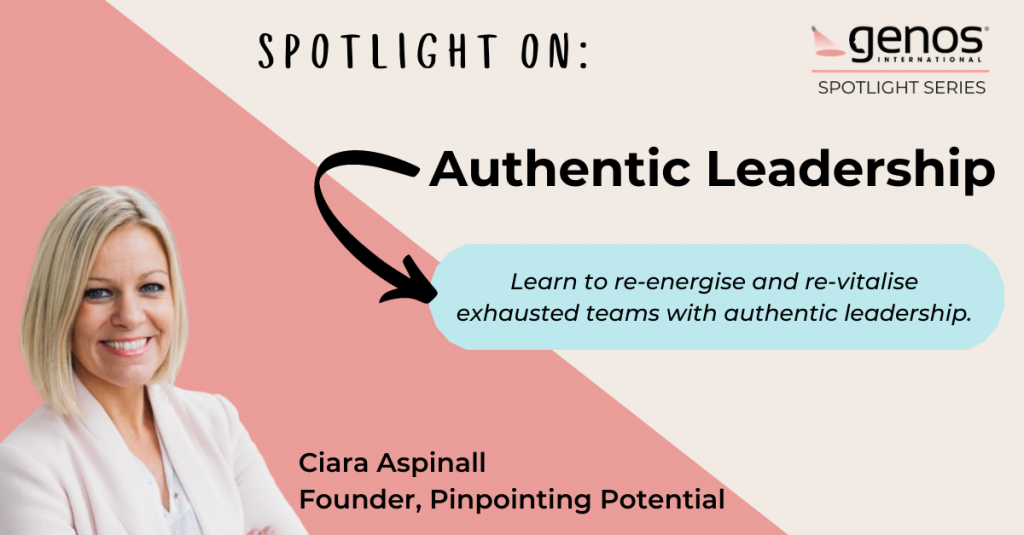 What will the session be about?
The COVID-19 pandemic and its aftermath have transformed our lives, our businesses and the economy globally. The significant impact and the effects of this will be felt by millions for many years to come. Leaders have to remember that when people feel uncertain, they make assumptions. When they are stressed, they become reactive; when they're worried, they become problem-focused and when they're fearful, they tend to blame others. This is where authentic leadership becomes essential.
'When employees feel that they are trusted to do their roles and given the right amount of support, when their leaders are transparent and open and honest with them, and when they are authentic and empathetic and treat them fairly, they will be more likely to trust their leaders and are more likely to be open, honest and authentic with them in return.'
Ciara Aspinall
People now need more from their leaders than ever before, especially since experiencing this new, more flexible way of working. But, many say, it's unlikely we will return to the old ways of working. As organisations move from a mindset of coping to progressing, the best companies will create more flexible, supportive, resilient, integrated and people-centric organisations, driven by the authentic leaders within it.
 'Without a doubt, the leaders who have been the most successful in navigating these uncertain times and leading their teams and organisations through, are those who have connected better with their people and been more human in their approach. They have been more present, more empathetic, more genuine, expansive, resilient and empowering; they are more emotionally intelligent.'
Ciara Aspinall
In this one-hour interview-style session, learn more about how to develop these essential leadership skills. Ciara dives into what it really means to lead with authenticity and gives some tips and advice on how you can become a more authentic leader.
About the Genos Spotlight Series
The Genos Spotlight Series is a monthly masterclass program where we invite you to join real conversations and gain insight for tackling the challenges of today. Featuring discussions and practical advice from an eclectic and talented group of specialists, authors, consultants and trainers – we'll be diving into some of the difficult topics, having brave discussions and providing you with thoughtful advice and techniques to apply in your everyday lives. Join us for Genos Spotlights on sleep, parenting, emotional intelligence, living with purpose, self-confidence and more.
https://genosemotionalintelligence.com/spotlight-series
About Ciara Aspinall
Ciara has over twenty years' experience in leadership, people management, recruitment, consultancy, coaching and mentoring. She has experience working nationally, internationally and globally including over 18 years' experience in the Caribbean. An energetic motivator and problem solver, with a successful track record of driving businesses, Ciara has a strong entrepreneurial spirit and has started, grown and developed highly successful businesses. She has a hands-on, down to earth approach to everything that she does.