Want to learn to improve how you connect, communicate and influence others?
Upcoming on The Genos Spotlight Series, join Genos CEO Ben Palmer and discover what it really means to lead with emotional intelligence. In this one hour masterclass, learn to enhance your leadership abilities, personal relationships and wellbeing.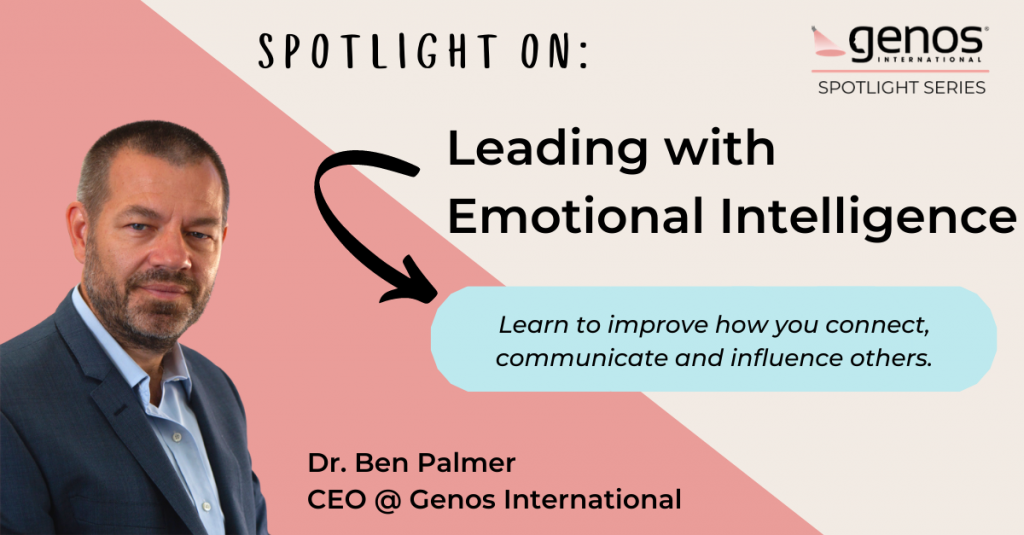 What will the session be about?
The most credible research organisations have recently published that the demand for emotional intelligence will rise even more in the coming years. Developing emotional intelligence can be life-changing for people at work and significantly impact their wellbeing and personal relationships.
Emotional intelligence is a set of skills that help us act intelligently with our emotions, enhancing our decisions, behaviour and performance.
Emotional intelligence is an essential skill for everyone, but especially leaders. The recent global crisis has meant that leaders are having to facilitate more and more complex discussions. Some have had to let people go due to downsizing organisations or try to support people struggling with remote working while homeschooling or caring for loved ones. Many leaders may need some guidance on how best to deal with these new situations while still ensuring employees feel valued, heard and understood.
If you are a leader, learning to develop your emotional intelligence and enhance your awareness of others and empathy will help you become more agile in your leadership approach and to better deal with these difficult conversations. Emotionally intelligent leaders are empathetic and understanding and empower their people and help them unleash their full potential.
So, want to learn how to be a more aware, authentic and emotionally intelligent leader?
In this Genos Spotlight Series session, Ben Palmer discusses how to be more intentional in interacting with others and tips for building your personal resilience. He'll also give insight into the social neuroscience of emotions and the connections between behaviour, performance and decision-making in leadership. Participants of this session will uncover how developing EI is critical for your personal and professional development and walk away with insight into creating a more enjoyable and safe work environment for yourself and everyone you work with.
About the Genos Spotlight Series
The Genos Spotlight Series is a monthly masterclass program where we invite you to join honest conversations and gain insight for tackling the challenges of today. Featuring discussions and practical advice from an eclectic and talented group of specialists, authors, consultants and trainers – we'll be diving into some of the difficult topics, having brave discussions and providing you with thoughtful advice and techniques to apply in your everyday lives. Join us for Genos Spotlights on sleep, parenting, emotional intelligence, living with purpose, self-confidence and more.
https://genosemotionalintelligence.com/spotlight-series
About Ben Palmer
Genos CEO Benjamin Palmer completed a PhD in Psychology at Swinburne University, where he created the first Australian model and measure of emotional intelligence, known today as the Genos Emotional and Social Competency Inventory. He also provided the first Australian benchmarks and psychometric analyses of popular emotional intelligence assessments, including the MSCEIT and the Bar-On EQ-I. Genos and Ben's model and measure of emotional intelligence that forms its core business is now a national and Australian export success story, with offices in Australia, Europe, North America. For the fourth consecutive year, Genos has been recognised by Training Industry in the USA as one of the Top 20 Global Assessment and Evaluation firms with companies across the globe have used the Genos model and measure of emotional intelligence to help improve leadership, resilience, customer service, sales and teamwork.
https://www.genosinternational.com/