The Genos Certified EI Practitioner Program: become an expert in applying Emotional Intelligence in the workplace.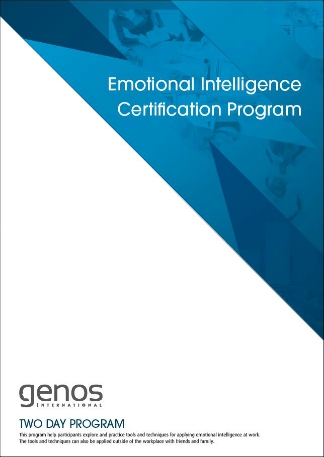 The Genos Certified EI Practitioner Program is specifically designed to make you the expert in applying Emotional Intelligence (EI) in the workplace.. Learn from world-renowned experts who develop and apply Emotional Intelligence with global organisations every day.
Our facilitators are the best in their field and work towards making organisations of all sizes become the best model of themselves they can possibly be.
Those who successfully complete the Genos Certified EI Practitioner Program will be equipped to:
Apply the Genos Model of Emotional Intelligence and clearly explain the unique features of the model
Make the business case for Emotional Intelligence solutions
Powerfully debrief assessment results to individuals and teams
Provide practical tools and techniques for improving emotionally intelligent behaviours in the workplace
Design and deliver group Emotional Intelligence development solutions

Position the unique features of the Genos approach to assessing and developing Emotional Intelligence in comparison to other EI approaches
Who's this program for?
The Genos Certified EI Practitioner Program is designed for coaches, consultants, trainers, learning and organizational development professionals, human resource consultants, and organizational psychologists.
What's the format of the program?
The Genos Certified EI Practitioner Program is delivered over 2 days and includes:
A one-on-one pre-program 360° EI assessment, that is fed back to you by a Genos certified instructor
A package of world-class materials to support your Genos business post-program
A deep dive on the neuroscience of emotions
An in-depth exploration of the suitableness case for Emotional Intelligence
Highly interactive group sessions
Practice debriefing reports using our 8-step coaching process
A post-program formal certification qualification session with a Master Trainer: to achieve final formal certification participants must study the 360° assessment of a fictional candidate and debrief those results with the Master Trainer playing the part of the candidate. The Master Trainer provides you feedback on your competence with our 8-step coaching model, and will provide any necessary support to get you feeling completely confident of your ability to effectively debrief reports.
Genos Certified EI Practitioner Program: Results
After successfully completing the Genos Certified EI Practitioner Program, you will be equipped to:
Develop and market your own emotional intelligence products and services for clients and prospects
Enhance and further develop other individuals and groups emotional intelligence levels through in-depth assessment and debriefing of results, as well as providing the mechanisms necessary for boosting emotional intelligence in the working environment.
Market and deliver the 1-Day training program, Applied Emotional Intelligence, included as a bonus with the certification program
Advantages
There are many clear advantages to becoming a Genos Certified EI Practitioner; here are just some of them:
Affiliation with a world-class Emotional Intelligence researcher and assessment developer.
Membership of a fast-growing network of more than 1500 and professionals who apply emotional intelligence in their coaching, training, consulting, or HR / Organizational Development practices
On completion of certification you get a complete 1-Day training program package, Applied Emotional Intelligence, complete with PowerPoint decks, workbooks, and presenter scripts – a ready-to-go program that you can brand as your own and begin to market immediately to your clients and prospects
All Genos Certified EI Practitioners are given access to Genos University (our online video educational portal) – a 24/7 source of support on all aspects of establishing a successful Genos busienss
Immediately after certification you are enrolled into our Fast-Start Program – a 12-week video-mail mentoring program helping you establish your Genos business in the weeks following certification.
We share everything we use to develop our Genos business in our exclusive Member's Portal, which gives you immediate access to a wealth of invaluable whitepapers, articles, presentations, marketing material and much more.
Maintaining your Certification
Qualified and competent use of our assessment tools comes from:
Consistent learning and practice utilizing Genos University, our Fast-Start Program and the Member's Portal
Consultation and association with other Genos Certified EI Practitioners
Continued usage of the tools in real-world situations
In order to preserve and maintain your Genos certification, you will be required to:
Undertake the debriefing of no less than three emotional intelligence reports annually.
Be present at a minimum of one Genos online Professional Development event annually.
Genos Certified EI practitioners are advised to determine if they require indemnity insurance to deliver assessment results in their regions; in Australia / New Zealand practitioners are required to have a minimum of A$1,000,000 professional insurance to be formally certified
The Genos Certified EI Practitioner Program: become an expert in applying Emotional Intelligence in the workplace.