Genos International have just launched a new podcast called 'EI at Work'.
EI at Work is a monthly podcast that highlights the difference emotional intelligence (EI, or a lack thereof), makes in businesses across the globe. Each episode, co-hosts Dr Ben Palmer and Marie El Daghl are joined by professionals and leaders implementing EI in their workplace. They share real-world examples of how EI has transformed their customers, staff, business outcomes and selves.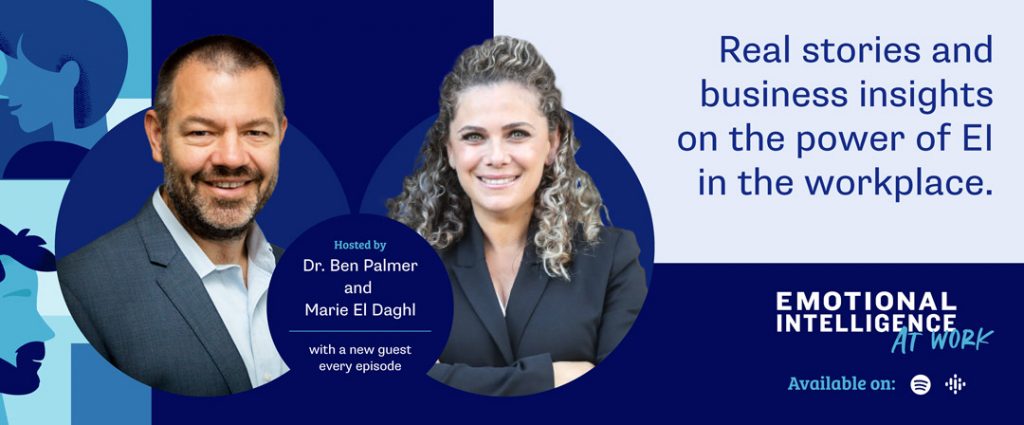 Meet the Hosts
Dr Ben Palmer
Dr Ben Palmer is the CEO of EI network, Genos International. Renowned for transforming workplaces, business outcomes and lives, Genos International is a world leading provider of EI assessments and development programs.
At Genos International, Dr Palmer has been at the forefront of providing game-changing emotional intelligence services to iconic organisations worldwide, such as IBM, Pfizer, Rio Tinto, Laing O Rourke, and Qantas. Through his work with leaders and professionals, he has invaluable insight into how EI significantly improves staff performance, customer satisfaction, profitability and more.
Dr Palmer completed his PhD at Swinburne University, Melbourne. He developed the first Australian model and assessment of emotional intelligence specific to workplace outcomes. Dr Palmer has continued to contribute his extensive knowledge to various global research articles, book chapters and journals.
As the podcast's resident EI Expert on EI at Work, Dr. Palmer brings his extensive knowledge to facilitate thought-provoking discussion on the transformative effects of EI.
Marie El Daghl
Marie El Daghl brings both her affinity for people and knack for humour to her role as EI at work co-host. A master communicator and comedian you can expect her to bring out the best in all guests and the details you're looking for.
No stranger to business or training, Marie is the managing director of communications agency Chasing Albert. She runs the firm's training and coaching program, where she helps her clients to improve their communication effectiveness including presentation training, media skills and more. She is also the host of Commical; a successful business communications podcast that is light on the ear and heavy on the learning.
On EI at Work you can expect Marie to ask all the right questions with her signature wit.
When can I start Listening?
Right now! The first two episodes of EI at work are available now, so you can dive straight in to learning about emotional intelligence. Check out an overview of the first two episodes below.
Episode 0 – What is Emotional Intelligence? Dr Ben Palmer breaks it down to Marie El Daghl.
If you're new to the topic of emotional intelligence, this is the right place to start. On EI at work, you'll hear real stories, results and business insights on the power of EI in the workplace. But before we get started, it's important to know exactly what EI is. In this opening episode, hosts Marie El Daghl and EI Expert Dr Ben Palmer, talk about the science of emotions, what EI is, who should develop it, and how it makes a difference.
 Episode 1 – Emotional Intelligence and Its Impact on Aged Care Quality, Standards and Workers
The Aged Care sector supports over 1.3 million Australians and has a workforce of over 400,000 people. Residential facilities and home care services are trusted to look after our most loved ones, yet this sizeable and critical sector is failing to fulfil basic duties of care.
In February 2021, the Royal Commission into Aged Care Quality and Safety released its final report titled, 'Care, Dignity and Respect'. This revealed harrowing information on the dire state of the sector. From residents being neglected and abused, to staff being untrained and burned out; the shortcomings of Aged Care services are clearer than ever.
Can EI help to improve the quality of care in aged care? Leading aged care provider IRT Group is banking on it.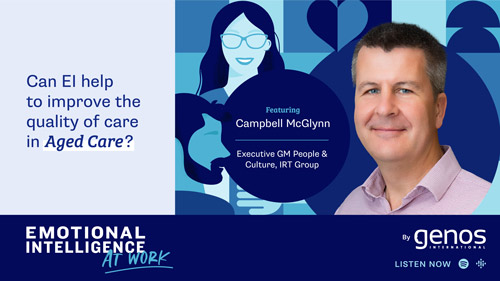 Where can I listen to the show?
You can tune in to EI at Work online or on your favourite podcast sharing platform (coming soon to Apple Podcasts).
Don't forget to follow the podcast on Spotify or whatever app you like to listen on, and also subscribe to our blog as we'll be keeping you up-to-date about the podcast each time a new episode is released.