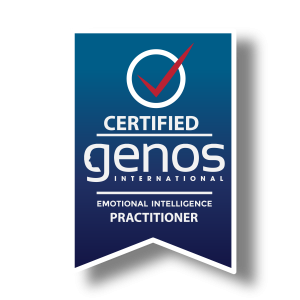 If you're a coach, consultant, trainer, learning & O/D professional, HR consultant, or an organisational psychologist, it's time you started working with your clients and teams on emotional intelligence.
The workplace is constantly changing and people skills are now more important than ever. Research has shown that our ability to handle our emotions and feelings can determine our success and happiness in life.
"The rules for work are changing, we're being judged by a new yardstick, not just by how smart we are, or by training and expertise, but also how well we handle ourselves and each other." Daniel Goleman.
The Genos Emotional Intelligence Practitioner Programmme will dramatically enhance your credentials and credibility by making you an expert in applying Emotional Intelligence (EI) in the workplace. 
Who Should Attend?
If you're a coach, consultant, trainer, L&D/OD/HR professional or focused on transforming how people work together – this course is for you. Attendees from around the world are welcome to join. (ICF Coaches receive a 20% discount, 10 Core Competency hours & 4 Resource Development hours.)
What's the Program Layout?
6 weeks, 90 minute sessions, live, online and interactive. Recordings provided should you miss a class. Then kick-start your Genos business with our 12-week 'fast-start' programme. Gain access to a package of world-class materials to support your Genos business.
What's does the Full Programme Include?
A place on the Live Online Genos Certified Practitioner Programme.
Receive a Certification binder in the mail with all the materials you'll use during the course.
Six 90 minute interactive sessions where you'll learn how to effectively deliver powerful EI solutions.
Access to the full suite of EI products and 4 compelling Add-On Leadership Enhancement 1 day workshops – all complete with scripts, workbooks, and guidance for delivery. No additional cost.
Lifetime membership to Genos University. Learning and support website available 24/7.
Your very own private online Genos Assessment Portal to allow you to manage your EI business.
Full access to the Genos Online Member Portal. for business development and marketing support.
Free seat on the Mindful Leader Train the Train Programme so you can deliver the popular Mindful Leader to your own network. (If you have an existing mindfulness practice)
When, Where & How Much?
20% Early Bird special for registration before December 1, 2018.
For a one-time fee of €2295 / £1995 /, $US3000, you'll receive seven 360 assessments (each with a €330 / £292 / US$400 retail value) that you can resell to your clients or use in your organisation.
At no additional cost, you'll receive a seat on the Mindful Leader Train the Trainer so you can deliver this popular and powerful programme to your own clients and/or organisation. 
At Genos, we have no annual renewals or fees. This entire package and benefits above effectively costs you almost zero. (Payment plan option available.)
What Will I learn?
As a Genos Certified EI Practitioner you'll be able to:
Become an official Genos partner and deliver the full suite of Genos emotional intelligence products and programmes.
Provide an expert perspective on the business case for, and benefits of Emotional Intelligence in the workplace.
Apply the Genos Model of Emotional Intelligence in client solutions to raise employee engagement, enhance resilience, improve teamwork, raise leader productivity and create a positive climate for change.
Powerfully debrief Genos Emotional Intelligence assessment results with individuals and teams.
Provide practical tools and techniques for improving emotionally intelligent behaviours in the workplace.
Deliver 4 'out-of-the-box' 1-day training programmes: Engaging Leader, Resilient Leader, Mindful Leader and Emotionally Intelligent Leader. Access scripts, workbooks and best practices.
Position the unique features of the Genos approach to assessing and developing Emotional Intelligence in comparison to other EI approaches.
Support clients in identifying, recruiting and developing emotionally intelligent people using our unique EI Selection Report.
Deliver compelling keynote presentations on all aspects of Emotional Intelligence.
Build your reputation as an Emotional Intelligence expert using Genos content and marketing best practices.
 If you're an independent coach, consultant or trainer: develop 'residual revenue' not dependent upon man-days.
We believe in creating more emotionally intelligent and happy teams around the world, join us! 
Sign up here or for more information contact Aoife Gorey at aoife.gorey@genosinternational.com
_________________________________________________________________
Hear what people are saying about the Genos Partnership and Certification:
"I found the Certification Program to be exceptional. It has prepared me well to offer the outstanding Genos Emotional Intelligence Suite and feedback process to our clients. Enthusiastically recommended." – Jim Ryan, Decision Associates
"…the resources and training provided by Genos made me confident to begin using the tool with my key clients right away…" – Louise Amos, Hudson HR
"The Genos Model is exactly what individuals and corporate leaders need to become, and remain, successful" – Jennifer Leake, CMC Assessment Pros
"Genos pairs Emotional Intelligence with an entrepreneurial approach – exactly where I want to be as a coach…" – David Molotsky, HR On The Go