If you're a coach, consultant, trainer, learning & O/D professional, it's likely your clients need emotional intelligence solutions. If they haven't already started working to develop an emotionally intelligent workplace, it won't be long before it becomes a key part of their talent management and development strategy.
Similarly, if you're working in an organisation in HR or L&D and responsible for the people side of your business – you should be considering emotional intelligence development.
Workforce dynamics are changing dramatically and will continue to do with advancements in artificial intelligence. Leaders and team members must focus on the human element of their businesses. One way to do this is through the development of emotionally intelligent workplace.
Research from Capgemini states EI offers big benefits for organisations and workforces and that demand for emotional intelligence skills will rise up to 6 times in the coming years.
The Genos Emotional Intelligence Certification Program will dramatically enhance your credentials and credibility by making you an expert in applying emotional intelligence (EI) in the workplace.
Learn how to develop and apply emotional intelligence in organisations to make a real impact on how people work together.
When you become a Genos Certified Emotional Intelligence Practitioner, you can:
Work with and sell the full suite of Genos emotional intelligence products and programs as a formally Certified EI Practitioner.
Provide an expert perspective on the business case for, and benefits of, emotional intelligence in the workplace.
Apply the Genos Model of Emotional Intelligence in client solutions to raise employee engagement, enhance resilience, improve teamwork, raise leader productivity and create a positive climate for change.
Powerfully debrief Genos Emotional Intelligence assessment results with individuals and teams.
Access Genos University and Member Portal FREE for life. Receive access to the Genos Partner app for resources and materials at your fingertips.
Deliver 5 'out-of-the-box' 1-day training programs: Engaging Leader, Resilient Leader, Mindful Leader, Emotionally Intelligent Leader and the Emotionally Intelligent Salesperson. Access scripts, workbooks and best practices.
Support clients in identifying, recruiting and developing emotionally intelligent people using our unique Genos EI Selection Report.
Work with Sales teams using our suite of Emotional Intelligence Sales Reports and programs.
Utilise our unique Emotional Climate Index (at no cost) and help your clients identify how their teams are feeling to prepare and develop programs to enhance
Deliver compelling keynote presentations on all aspects of Emotional Intelligence.
Build your reputation using Genos ready-made training content, social media support and marketing best practices.
4 STEPS TO BECOME A GENOS CERTIFIED EMOTIONAL INTELLIGENCE PRACTITIONER
STEP 1
Pre-program assessment & debrief
Experience what it means to be a client – complete your own EI assessment and have it fed back to you in a one-on-one private debrief so that you're also working on your own development as you progress through the program.
Work with a Genos Master Trainer to understand truly powerful coaching debriefs.
STEP 2
Deep Dive into EI. Attend 6 Live/Online and Interactive Sessions
Receive a comprehensive hard copy Certification Packet to support you through the course. Each week, explore a unique aspect of implementing emotional intelligence in your organisation or with your clients with peers from around the world.
Learn from internationally recognised experts and Master Trainers who work with Fortune 500 companies every day during interactive and engaging sessions. See the full program content below.
STEP 3
Deepen your expertise with Genos University Member Portal & the #GenosTribe Community App
Our online support is unlike any other vendor. Gain lifetime membership to Genos University – our learning & development member portal, packed with tutorials, professional development and marketing support to get you started in running your Genos business.
Become a member of our exclusive partner app. You'll learn about all aspects of the Genos business from our expert team members and from other Certified Practitioners. You'll meet, network and collaborate with talented practitioners from around the world.
STEP 4
Earn your formal Genos Certified Practitioner Qualification
To achieve formal certification, you'll debrief the results of a fictional candidate with your Master Trainer playing the part of the candidate.
The Master Trainer will provide you with feedback on your competence with our 8-step coaching model and will provide the necessary support to get you feeling completely confident of your ability to effectively debrief reports.
THE MOST COMPREHENSIVE EMOTIONAL INTELLIGENCE CERTIFICATION TRAINING
The Neuroscience of Emotions
The Genos EI Model & Behaviours
Full suite of EI solutions for Hiring, Sales, Development and Leadership
Interpreting and Debriefing Results
Powerful Group-based Debriefs
Integrating EI in Selection & Talent Management
How to Deliver The Compelling Add on Programs – The Mindful/Resilient/Engaging/Emotionally Intelligent Leader
Psychometric Properties & Technical Research
Competitive advantages of the Genos Solutions vs. Other EI assessments
Using the Genos Survey System with Ease
Working with The Emotional Culture Index
Application of the Genos Sales EI Reports
Using the Genos ROI Calculator
What are people saying about the Genos Emotional Intelligence Certification Program?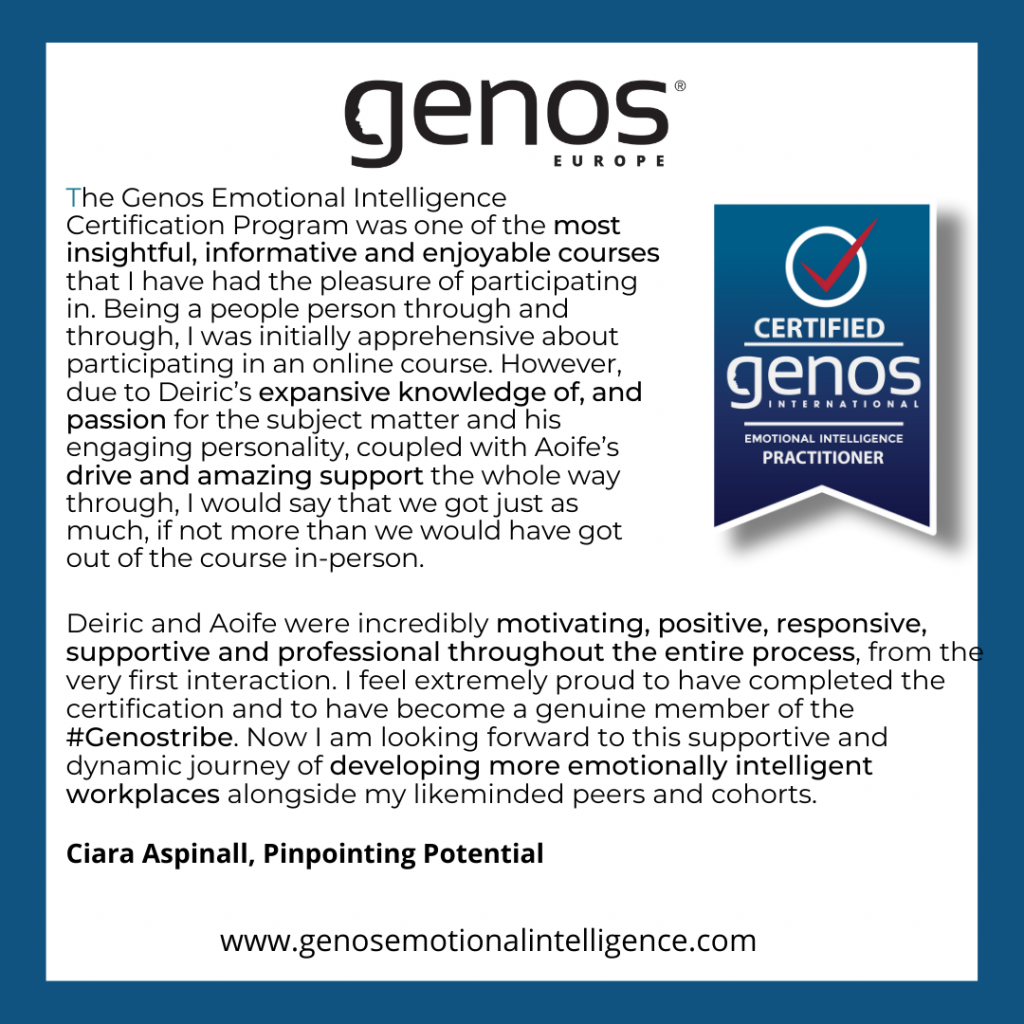 More Testimonials:
"Right off the bat, this course impressed me in a way that Deiric made us all feel very welcome, empowered to learn and throughout all subsequent sessions, he was attentive to our specific questions and feedback. Deiric's wealth of experience in sales and emotional intelligence shines through his delivery. A shout out also has to go to Aoife who was superb in supporting the sessions in real-time and via email in between. All in all, it was great to work with such a well organised and professional team and I'm now raring to go and put all this new-found knowledge into practice as a member of the GENOS tribe! The journey has just begun and I feel the support of the team behind me. Thank you!"

Jeremy Peter Williams, Senior Consultnat, Podcaster and Certified Blockchain Expert
"Having just completed the Genos on-line accreditation course, I must say how enjoyable and informative I found it. Not only is their suite of EI reports and resources second to none, working with Deiric and Aoife was a real pleasure. Their style and approach certainly reflects the messages they put across and the concepts they are talking about".

Graham Stickland, Director – Contact Consulting

Thanks Aoife and thanks to Deiric for really engaging and productive sessions all throughout. Time flies so fast and here I am realising I really found a great opportunity with Genos. I am so glad I reached out to you Aoife that December to sign-up for the course. To me, this course is huge and is opening up a lot of opportunities for me that I never thought of. I never knew what I was into until I have completed the entire sessions. Brilliant!

Rhealyn Mugri, Project & Change Manager, Trainer, Keynote Speaker