Are you worrying about anything right now? Have you worried about anything over the last few weeks?  Do you think it's likely that you'll worry about something in the future? If you answer 'yes' to any of these questions, then you need to join the Genos Spotlight Series and Deiric McCann on July 20th for a session on 'Dealing with the Silent Epidemic: Worry'.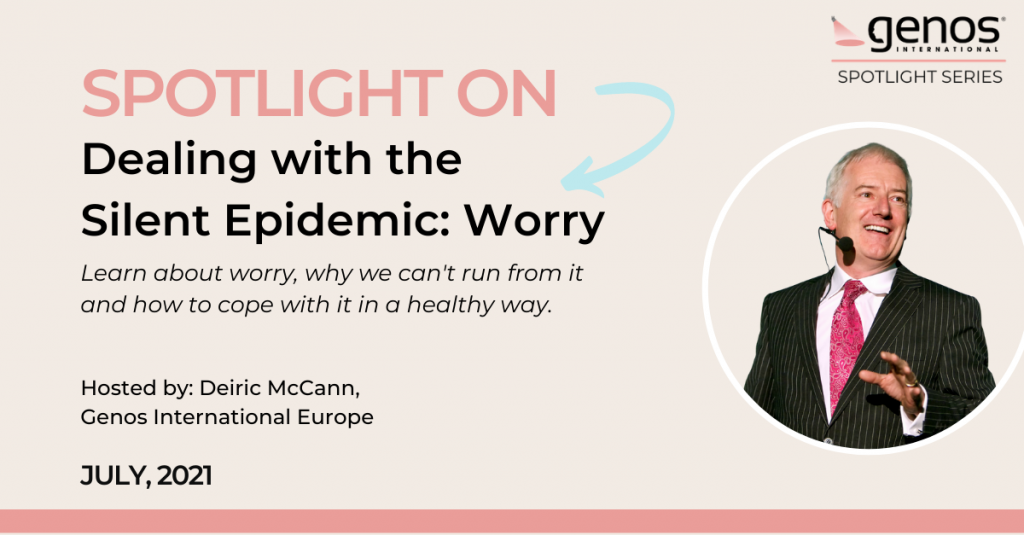 What Will The Session Be About
Since COVID hit Deiric has spent almost all of his time delivering virtual programs to help people deal effectively with the stress that is a very natural and normal reaction to the impact of the pandemic upon our lives. There is a clear message coming in from every research and news outlet: the uncertainty of the COVID era means that more of us are worrying more deeply, more of the time, and about more things than at any time in the past.  Even those who would never have described themselves as 'worriers' now find themselves more anxious than at any point in their lives.
Take this example;
In one of his recent sessions, a 28-year-old woman stayed behind to ask for some advice. Let's call her Anna. Anna said that she was blessed to be married to a man that loved her every bit as much as she loved him, has two beautiful two-and-a-half-year-old twins, and has a job she loves, where she's widely regarded as a top performer.
Since COVID, Anna has started working from home. So has her husband. Suddenly, she, her husband, AND the twins are spending most of their waking lives in their one-bedroom apartment, which is starting to feel very small indeed. They're both feeling the pressure on their relationship – with friction and arguments that were never there before.
Anna explained that she had recently found herself repeatedly thinking 'what if our relationship falls apart under this pressure and I end up alone with the twins?', and 'what if the pressure of that affects my performance at work?', and 'what if I lose my job?', and 'what if I can't pay the mortgage?', and 'what if…' and 'what if…', and 'what if…'.
In this highly practical session, Deiric addresses why we worry – and why we can't outrun, out-think or outsmart it; but how we can manage it.
To understand how to best tackle worry, we need to understand how our brains manage danger and fear. If something happens that causes our brain to perceive something as a threat, it kicks off a completely automatic process that makes your heartbeat faster to rush blood to your arms and legs – to get you ready to either run from or fight your way out of trouble.
In this informative session, learn about worry, why we can't run away from it and how to cope with it in a healthy way. Starting from the 'What if' question that is the genesis of all worry, participants in this masterclass will learn tips and techniques to help get their worry back in proportion and to minimise its impact on their lives.
ABOUT THE GENOS SPOTLIGHT SERIES
The Genos Spotlight Series is a monthly masterclass program where we invite you to join real conversations and gain insight for tackling the challenges of today. Featuring discussions and practical advice from an eclectic and talented group of specialists, authors, consultants and trainers – we'll be diving into some of the difficult topics, having brave discussions and providing you with thoughtful advice and techniques to apply in your everyday lives. Join us for Genos Spotlights on sleep, parenting, emotional intelligence, living with purpose, self-confidence and more.
https://genosemotionalintelligence.com/spotlight-series
ABOUT DEIRIC MCCANN
Deiric McCann leads Genos International Europe, a world-leading provider of Emotional Intelligence solutions. He works with a large range of multi-national clients helping them to develop the resilience, emotional intelligence and psychological safety of their teams. Author of Leadership Charisma and several other books that emphasise the critical role of engaging people to achieve business success, his particular expertise is in helping clients and partners implement EI based solutions that deliver measurable Return on Investment – something he speaks upon regularly around the world. A TEDx speaker and an accredited teacher of the Search Inside Yourself Mindful Leadership Program developed by Google, Deiric regularly delivers emotional intelligence, resilience, and mindfulness training worldwide to extremely positive reviews.
https://genosemotionalintelligence.com/