Sleep is essential for life. As self-care has taken on a heightened focus during the COVID-19 pandemic, we are acutely aware of the importance of healthy sleep for our physical, mental, and immune health, not to mention our safety and productivity.
On August 10th, join the Genos Spotlight Series and Nancy Rothstein, MBA, The Sleep Ambassador®, for her masterclass titled 'Intelligent Sleep: A Key to Optimal Living'. Recognizing that only you can sleep for you, Nancy's goal is to empower people to enhance their sleep so they can live at their best.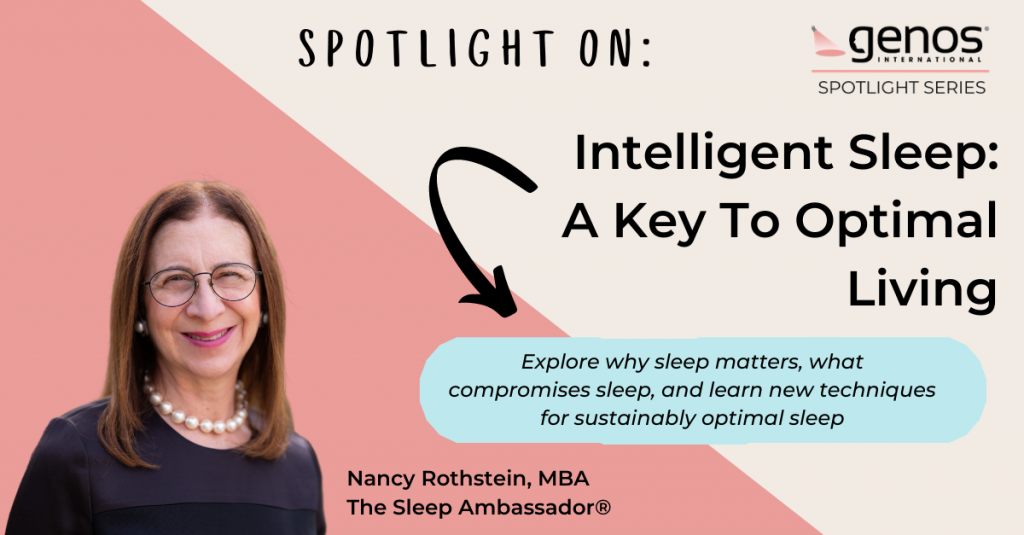 What will the session be about?
We all know how important it is to get good sleep, not only for our physical wellbeing but also for our mental health, prioritizing sleep is key to your wellbeing. Yet for many, good sleep can be elusive. Recognizing that only you can sleep for you, it is important that each of us are empowered to get the best sleep we can.
In this session, Nancy explores why sleep matters, what compromises sleep, and discusses new techniques and guidelines you can use to get sustainably optimal sleep.
An understanding of basic sleep science offers a foundation from which to make healthy behavioural and environmental choices to support good sleep. Sleep science continues to evolve even though we've been sleeping since the beginning of time. Contrary to historical beliefs, sleep is actually a very active state, during which virtually every one of your organs is at work. When it looks like you're still on the outside, you're really like a city that never sleeps on the inside.
"Plain and simple, the science is clear. Sleep is essential for physical, mental, emotional and your brain health."
Nancy Rothstein
Think about when you're sick and you say to yourself; 'I'll see if I can sleep it off'. Sleep helps to support your immune system, allowing your body to rest and restore itself. Similarly, there is research showing that sleep can help prevent a number of diseases like diabetes and depression. However, it's important to remember that whether we are unwell or not, sleep is essential for life.
ABOUT THE GENOS SPOTLIGHT SERIES
The Genos Spotlight Series is a monthly masterclass program where we invite you to join real conversations and gain insight for tackling the challenges of today. Featuring discussions and practical advice from an eclectic and talented group of specialists, authors, consultants and trainers – we'll be diving into some of the difficult topics, having brave discussions and providing you with thoughtful advice and techniques to apply in your everyday lives. Join us for Genos Spotlights on sleep, parenting, emotional intelligence, living with purpose, self-confidence and more.
https://genosemotionalintelligence.com/spotlight-series
 ABOUT NANCY ROTHSTEIN
As The Sleep Ambassador® and Director of Sleep Health at Resonea, Nancy is on a quest to help people live life fully, 24/7. As a sleep expert, Nancy inspires a new respect for sleep and its impact on all aspects of work, life and well-being.
Through consulting, public speaking, media engagements and other venues, she presents strategic and practical solutions selected to empower people to make lasting shifts to optimize their sleep quality and quantity, both for the public and for the corporate world.
Nancy serves on the NIH Sleep Disorders Research Advisory Board, MyApnea.org, and other organizations that foster sleep health. She is the author of My Daddy Snores, published by Scholastic, which has sold over 400,000 copies.
https://thesleepambassador.com/