Do you feel like you're in a slump, not motivated to do much? Feel like you're not being your best self? Take the first step in moving away from this and join us for the next session in the Genos Spotlight Series with author and consultant Nikki Langman.
Happening live on Thursday, 26th, join us for 'How To Be A Badass and Navigating Your Road To Self-Mastery.' Nikki is going to take you on an inspirational journey toward being more of your best self, more often, by showing up as a BADASS every day.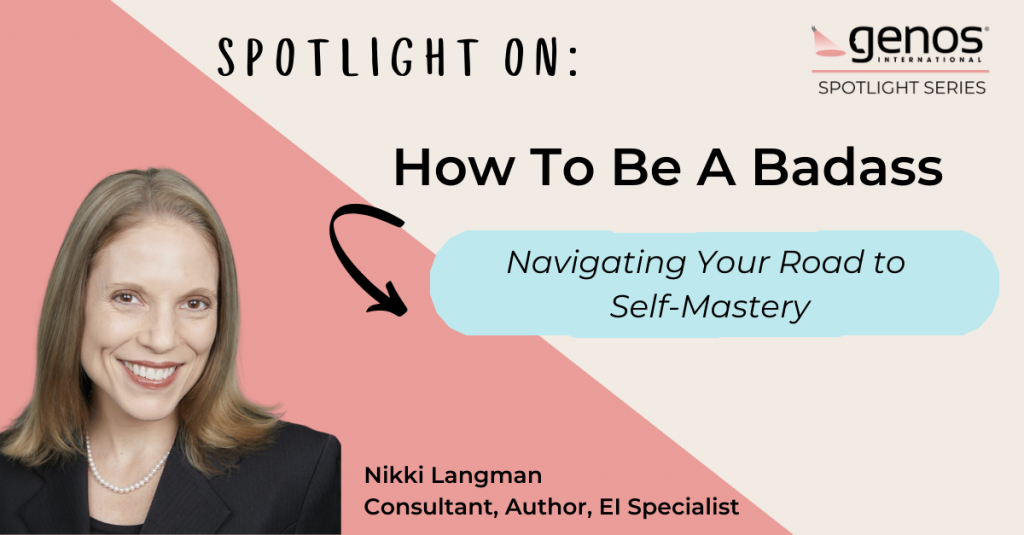 What will the session be about?
In this session, Nikki candidly shares her story about battling addiction for over 30 years and how emotional intelligence has helped her to maintain lasting change. Nikki's mission is to share with you the methods and resilience strategies that she uses and coaches, that can be used in a wide range of contexts, to empower you to fully embrace and master the BADASS that you are.
We all know how easy it can be to be motivated from the couch or bed. We make all these grand plans to start that project, lose that weight or whatever it may be, but when the sun comes up the following day, all that motivation is gone, and we just forget about those things.
"Nothing changes until your behaviour changes. Take action, and your life will change."
Nikki Langman
Nothing will happen until you act. You can't visualise or wish these goals into existence, you have to get up and do something about them, you have to get moving. It can be easy to think of the ways we can work towards our goals, we may have many ways of getting there, but until you get up and take those first steps, you're no closer than you were yesterday. One of the simplest ways to try and keep yourself motivated is to work towards a small victory every day.
"You can't make a lot of progress each day, but you can adhere to your plan. Feel good that you followed your plan and processes today. Get addicted to that positive feeling. The results are sure to come along."
Nikki Langman
Using the BADASS framework, learn to get consistent results while increasing your courage and confidence. In this session, discover ways to deepen your authenticity and take more purposeful action to become a more effective leader. Participants of this session will come away knowing how to manifest love and respect for themselves at all times.
About the Genos Spotlight Series
The Genos Spotlight Series is a monthly masterclass program where we invite you to join honest conversations and gain insight for tackling the challenges of today. Featuring discussions and practical advice from an eclectic and talented group of specialists, authors, consultants and trainers – we'll be diving into some of the complex topics, having brave discussions and providing you with thoughtful advice and techniques to apply in your everyday lives. Join us for Genos Spotlights on sleep, parenting, emotional intelligence, living with purpose, self-confidence and more.
https://genosemotionalintelligence.com/spotlight-series
About Nikki Langman
Nikki Langman is an International Speaker, Author, Business Coach and Facilitator, and Certified Genos Emotional Intelligence Practitioner. As a Business Coach and Facilitator, Nikki is committed to guiding organisations to achieve higher, sustainable levels of business excellence. Nikki has 10+ years of experience in Human Resources, Coaching, and Corporate Learning and Development. She also is a regular contributor for several podcasts and has been featured as an expert authority on Perth's Radio 6PR, 94.7 The Pulse, and Smart Company. She is also an Executive Contributor for Brainz magazine. Outside of work, Nikki is a competitive endurance runner and author of the Amazon #1 Best Selling book: How to be a BADASS: Navigating Your Road to Self-Mastery.