In no uncertain terms, the 2020s have so far been a sh** show of a start to a new decade. We can't seem to run away from negativity. Research has shown that the pandemic has caused increased feelings of frustration, worry and anger in a lot of us.
On Thursday the 10th of June, join Sally Leonard and Raatha Ganesh from Resilio Asia and the Genos Spotlight Series in a transformative conversation, where they share their own stories about how mindset and conscious choices play a huge role in how we show up.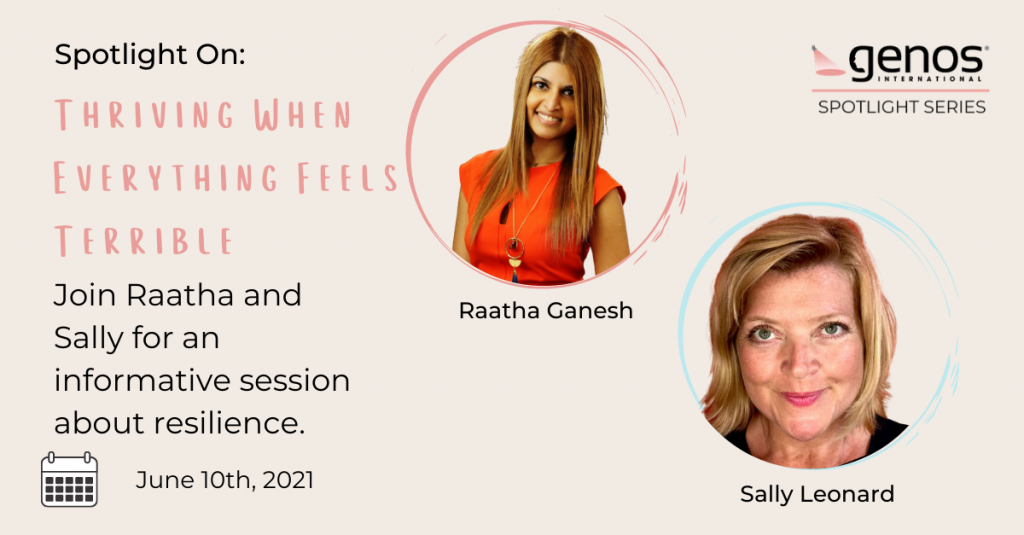 What will the session be about?
The past year has taken a significant toll on all of us, making us experience more stress and anxiety than many of us have been used to. Fortunately, there is a productive way to counter the effects. It's called Thriving. This is 'the psychological state in which people experience a sense of vitality and learning'. When individuals are thriving, they are growing, developing and energised rather than feeling stagnated or depleted. People who experience a thriving state describe feeling healthier, more resilient and able to focus on their work.
The million-dollar question now is how do we get there, especially when it feels like we're drowning in a sea of negativity?
In this interactive session, you will have both the opportunity to interact with and ask burning questions around what's going on for you. You'll also learn the importance of conscious choices in shaping our mindset and transforming our reality. At the end of the session, you'll walk away with simple and practical tools and rituals to practice and embed into your life and watch your reality transform.
This session is being held in support of Tree Tops Elephant Reserve, who rescue and retire captive elephants who previously worked exhausting hours in the logging industry, or gave rides and performed in shows for tourist entertainment. They are pioneering ethical elephant tourism in the South of Phuket and offer visitors an Adventure of a Lifetime to learn about, love, and respect elephants through our compassionate and gentle approach.
If you would like to make a donation to Tree Top Elephant Reserve you can do so here.
Meet the Speakers
Sally Leonard is the 'poker of bears' and CEO at Resilio Asia. While her professional background is in sales, marketing and communications, she has also fulfilled a variety of training and mentoring roles throughout that time, feeding her passion for seeing people fulfil their potential. Sally specialises in developing leaders through a variety of innovative tools and workshops delivered in an engaging, stimulating and challenging way.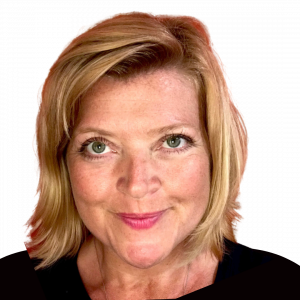 Sally's curiosity to better understand human personalities and the effect of a person's behaviour on others, has led to her becoming a certified administrator of a number of individual and team shaping tools, like Genos Emotional Intelligence Reports, DiSC and many others.
While Sally works in many important areas, some of her key specialities include; leadership development workshops, emotional intelligence, developing a values-led culture, supporting organisations through change and executive coaching.
Connect with Sally on LinkedIn here.
Raatha Ganesh is 'Disruptor in Chief' at Resilio Asia. She is a certified organisational coach (Institute of Executive Coaching and Leadership), emotional intelligence practitioner and internationally certified positive mental health and wellbeing instructor for the workplace.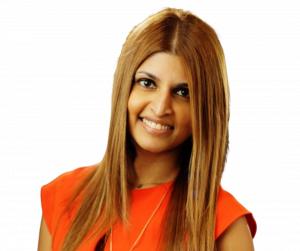 A self-confessed unwavering optimist and lifelong learner, Raatha's intention is to leave her mark on this world by 'leaving people better than when [she] found them'. She is a huge people and relationships junkie. Raatha loves reading and learning about what makes someone tick and uncovering their potential through collaborative conversations and co-creating solutions.
A proponent of cultivating a growth mindset, Raatha is adventurous with talent and believes in action-learning. She loves working with people and is inspired by the journey of growth and transformation. Her optimism and faith in an individual's potential gives way for her curiosity and resilience to show up in the face of failure.
Connect with Raatha on LinkedIn here. 
 About the Genos Spotlight Series
The Genos Spotlight Series is a monthly masterclass program where we invite you to join real conversations and gain insight for tackling the challenges of today. Featuring discussions and practical advice from an eclectic and talented group of specialists, authors, consultants and trainers – we'll be diving into some difficult topics, having brave discussions and providing you with thoughtful advice and techniques to apply in your everyday lives. Join us for Genos Spotlights on sleep, parenting, emotional intelligence, living with purpose, self-confidence and more. The Genos Spotlight Series is being offered free of charge as part of our mission to share knowledge, inspire and create more emotionally intelligent and happier people worldwide. Feel free to share with your colleagues, friends, family and team members.
https://genosemotionalintelligence.com/spotlight-series