On the Mindful Leader Progra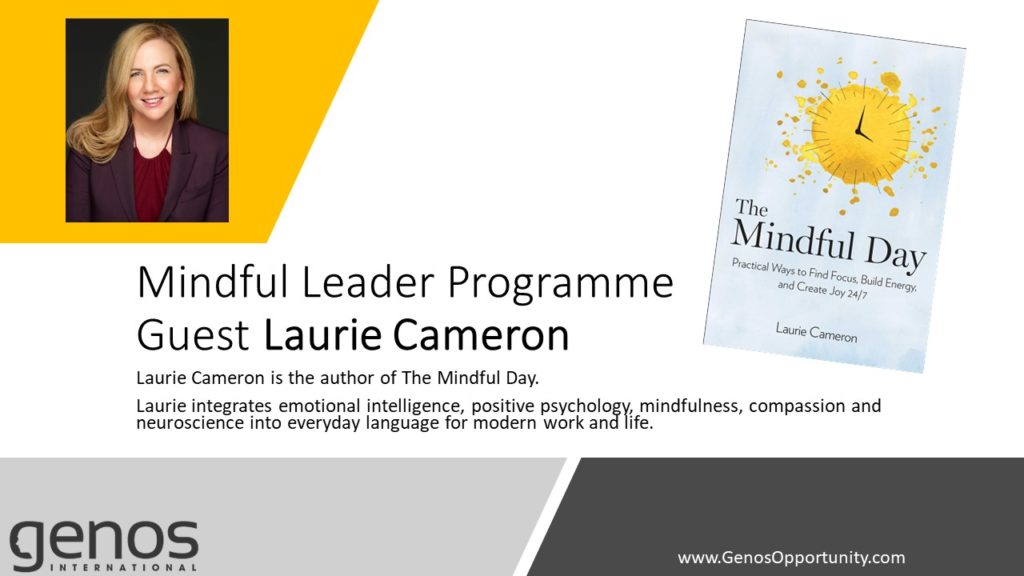 mme, we're honoured to welcome a new guest speaker and expert each week. This week – Deiric McCann sat down with mindfulness expert and author, Laurie Cameron. 
Learn from Laurie how you can harness the things you do 'day in and day out' as mindfulness practices.
"Take for example, did you know that brewing your morning coffee can become a mindful practice? By bringing full attention to the actual process of brewing the coffee and deliberately directing attention to the activity of brewing, smelling, sipping and experiencing this simple activity. Not thinking of upcoming meetings or things happening later on that day. Mindfulness is about training attention, working with emotions and amplifying the experience… savouring the good. All before you've left the house, doing something you were already going to do."
We learn about insightful practices of what to do when we feel triggered and are reacting to something negative, and understanding when you need a mindful pause or breath.
Have you ever felt guilty of bringing stresses home and arriving distracted? Learn about hugging meditation and practising mindfulness and gratitude with your loved ones. It can create a powerful shift in your life. Laurie has learned from renowned gurus and monks around the world.
Laurie shares so many great tips and practices for mindfulness and meditation in this interview. Plenty you can start doing now to become closer to having a more 'Mindful Day.'
Please listen and enjoy!
Sincerely grateful for Laurie taking the time to spend with us.

Follow Laurie on Twitter @LaurieCameron
Visit her website http://purposeblue.com/
Find her book on Amazon.
ABOUT LAURIE CAMERON
Laurie Cameron is the author of The Mindful Day: Practical Ways to Find Focus, Calm and Joy, and is known for her warmth, energy and insight sharing the science of human flourishing and development. Laurie integrates emotional intelligence, positive psychology, mindfulness, compassion and neuroscience into everyday language for modern work and life. Laurie is the founder and CEO of PurposeBlue – a consultancy focused on mindfulness-based leadership programs that build resilience, creativity and engagement. Laurie is also a mindfulness teacher with Search Inside Yourself Leadership Institute, a Senior Fellow at the Center for the Advancement of Well-Being, and a guest professor on Mindful Leadership at the R.H. Smith School of Business at the University of Maryland. Laurie speaks on the power of mindfulness all around the world.