STAYING RESILIENT IN CHALLENGING TIMES
PRACTICAL SKILLS FOR DEALING WITH THE AFTERMATH OF
CORONAVIRUS AND THE STRESS OF RETURNING TO WORK
LIVE 4-SESSION PUBLIC PROGRAM
ARE YOUR TEAM MENTALLY READY FOR POST-CORONAVIRUS AND GETTING BACK TO WORK?
The stress many of your team experienced with the advent of Coronavirus and the lock-down was unprecedented in recent times. The return to work is likely to be no less stressful as they adapt to some 'new normal' – and people paralysed by stress cannot bring their best to the challenges your business is facing.

In four 60-minute sessions your team can change their mindset to one that will help them weather this storm more effectively – remaining resilient, engaged and productive throughout.
"
Employers should put in place support for workers who may be suffering from anxiety or stress … may have gone through traumatic events such as the serious illness or death of a relative or friend, or be experiencing financial difficulties or problems with their personal relationships"
4 x 60-MINUTE MODULES…
…BUILD MORE RESILIENT, LESS STRESSED, AND HAPPIER TEAMS
Click on each title below for details of the four modules

1: COPING WITH THE CORONAVIRUS CHALLENGE
During this program, we focus on two core research-driven strategies for building the resilience needed to thrive during the Coronavirus challenge.
The first is learning a set of everyday practices that will help in coping with the stress thrust upon us by the crisis (dealing with the immediate impact of Coronavirus stress).
The second is the development of a more resilient mindset that will help participants to become more stress tolerant (building a greater resistance to the stress of Coronavirus AND other future stressful life events).
Participants will learn easy practices that they can start to apply right away to begin their quest for a more resilient approach through this challenge.
Session 1 topics include:
How to transform your approach to everyday challenges – and the not so everyday challenges like Coronavirus
A daily attention-to-breath practice for improving focus and concentration to build the inner calm essential for stress tolerance and resilience – an essential foundation for resilience in challenging times
The new science of stress and resilience – how we misunderstand stress, and how the stress response can be harnessed to bring out our best selves
Changing our stress mindset to respond to challenges most effectively – first steps (based upon deep Yale and Harvard research)
Actions to take in the days after Session 1 to begin strengthening your resilience 'muscle'
2: DEVELOPING INNER CALM
When you come to life from a place of calm everything looks different – and you tend to show up as your 'best self'.
Think of the last time when your mind was calm and you felt good about everything. Didn't everything seem so much easier? Didn't there seem to be so much more light in your world? Weren't you more optimistic and ambitious, seeing opportunities all around you?
In this session, we dive into well-being and mindfulness to learn two physiological and one mental practice that you can apply immediately to start building this inner calm.
Topics include:
Two simple physiological practices for calming yourself when under pressure
The first three steps of R.A.I.N – a simple 4-step approach to dealing with stress effectively in the moment
The neuroscience behind R.A.I.N. – why it helps you cope
Body Scan: a practice for raising emotional self-awareness and for relaxing in stressful situations (often useful for sleep issues)
A reflection exercise to deal with your most intense source of stress right now
3: BUILDING UP YOUR EMOTIONAL RESILIENCE
It's easy to be stress free when things are going well. But the reality of life is that during this crisis there are good days and bad days, good periods and bad periods – and being able to deal with both is key to mental well-being and happiness. Emotional Resilience is simply the ability to 'roll with the punches' – to adapt to adversity in a way that doesn't see challenging times sucking all of the good out of our lives. Research shows that those who deal with everyday stresses effectively can also more effectively manage major crises. In this session we'll begin practices designed to further build the Emotional Resilience to deal with everyday challenges.
Topics include:
The 'N' in the R.A.I.N. process for dealing with stressful situations – how to use the approach effectively every time you're challenged by stress
The deep science and research behind gratitude as an effective mechanism for building resilience and dealing with stress.
Journaling on gratitude for building resilience
Introduction to the Genos Journaling App (free download)
A simple no-time-required start-of-day and end-of-day routine for enhancing a sense of daily purpose and resilience
4: ENVISIONING A POST-CORONAVIRUS LIFE
Crises like Coronavirus can sometimes cripple our ability to recognise that everything changes in time – that this crisis will come to an end and for many of us life will go on much as before.
Holding that perspective is key to maintaining the mental toughness that will see us through these difficult times. Crises like this are a good opportunity to think about our desired future – to reflect upon the future we want for ourselves, our families and our businesses beyond Coronavirus.
This session will provide guidance on creating a supportive and motivating vision for the future – and for using the Genos journaling app to get crystal clarity on that personal vision.
In this final session, we will also look at how to be less critical of ourselves when under the pressure of this sort of stress – treating ourselves with the same compassion we'd bring to a loved one we found suffering under pressure. Research from Harvard University shows self-compassion is critical to resilience.
Topic include:
Creating a personal vision to build a sense of purpose and meaning that looks beyond current challenges and sources of stress to provide an optimistic, forward-looking outlook
Practicing Self Compassion – changing one's internal dialogue and learning to be compassionate with oneself in challenging times
Taking all the tools and techniques from the program back into your life
ALL PRACTICES ON THE PROGRAM ARE SUPPORTED BY SCIENTIFIC RESEARCH AND EXPLANATIONS OF HOW THEY WORK – AND PRACTICAL GUIDANCE ON HOW TO APPLY THEM EFFECTIVELY
THE SCIENCE BEHIND THE PROGRAM
CLICK ON EACH HEADING BELOW FOR MORE DETAIL

HOW STRESS CAN BE HARNESSED
Stress isn't an unusual feeling—especially at work – and it's important to recognise that fear and stress, while undesirable, is a perfectly normal reaction to what's happening all around us with the advent of Coronavirus. When we perceive a threat the stress response kicks our brains and bodies into high gear to find ways to deal with threats.
Science tells us that there are two main challenges to stress – a 'threat' response or a 'challenge' response. The 'challenge' response is what stress triggers in the surgeon who must bring her steadiest hands to an operation, the pilot flying a jet at 1400 miles per hour who must make impossibly fast and accurate decisions, the sportsperson who rises to the impossible challenge to pull out the best possible performance just when the team most needs it, and the colleague who always seems to deliver their best work under heavy pressure.
You've already experienced the challenge response – think of some of the greatest personal breakthroughs you've ever made, times when you achieved something you would previously have believed yourself incapable of achieving. These breakthroughs are usually made in times of high stress.
A threat response, however, throws people into a fight, flight or freeze response – behaviours that are not only unhelpful in situations like the one we find ourselves facing now, but which also come with myriad undesirable health impacts like fatigue, upset stomach, muscle pain, loss of sexual desire/ability, insomnia, frequent colds and infections and heart problems
THE CRITICAL ROLE OF MINDSET
Research from Harvard and Yale medical schools show that the difference between experiencing a threat and a challenge response is largely down to one's 'stress mindset'. Having the right mindset changes everything about how people experience adversity and the stress that comes with it. It also shows that with as little as a few hours training people can assimilate the 'stress can be helpful' mindset that triggers the challenge-response in stress situations, converting the physical and mental energy charge from stress into a resource that can help find us imaginative solutions to these completely new problems.
But with the highly contagious threat mindset that is predominant now, one of fear and panic, such frequent and consistent stress could cause a dramatic decline in your team's focus, productivity, joy for life and overall health – and those are impacts that could be felt long after the current crisis has passed.
GIVING YOUR TEAM THE TOOLS TO COPE
In four 60-minute sessions your team will experience a shift in their stress mindset that will radically change how they respond to the challenges of the coming months. They'll learn about research from the neuroscience of stress coupled with proven mindfulness and emotional intelligence practices to equip them with the deep resilience they need to deal with this crisis.
By the end of this experience, they'll be equipped with a unique and totally practical toolset that will not only help them come through this time of challenge in one piece, but will help them become their best selves in the process of doing this – making personal breakthroughs they never thought possible in the face of such challenging times. They'll walk away with an actionable approach for shifting their mindset when it comes to stress and challenges at work, and how they deal with them.
"…really helped me to see how the course and techniques you have been covering can be applicable to really stressful, real-life events!"
A COMPLETE END-TO-END PROGRAM

FOUR ENGAGING ONLINE SESSIONS, 4 WEEKS OF FOLLOW-UP CONTENT AND POST-PROGRAM CHECK-IN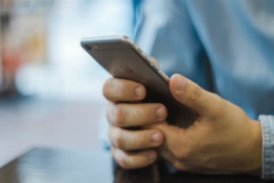 4 weeks of post-program support emails & recordings

For a minimum of four weeks after, participants receive weekly messages that include recordings, downloadable practices, app recommendations and supportive advice that they can use to strengthen the practices they learn on the program.
This regular post-program interaction keeps the lessons from the program front and centre in participants minds as they build new habits around what they've learned.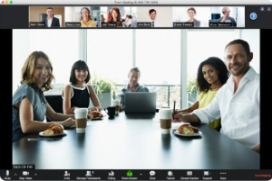 post-program check-in session
Bonus check-in session to allow participants to meet the instructor again online to share experiences, ask questions, and learn how to establish long-term habits around what they've learned on the program.
These check-ins are highly successful in encouraging participation to see the last session of the program as the beginning of the implementation phase as opposed to the end of the program – participants feel supported.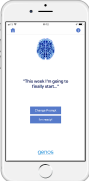 BUILD YOUR RESILIENCE WITH THE GENOS JOURNALING APP
Research shows that highly resilient people tend to have a clear sense of vision, great self-awareness and a deep sense of gratitude.
Participants receive access to the Genos Journaling App for their device. This unique app will help them discover things about their motivations and strengths that will help them to develop a stronger sense of joy and resilience both during and after the program.
All Tickets Include:
Four-session online program
Four-week 'Continuity Program'
4-week post-program 'check-in'
Genos Journaling app
Early-bird Team Ticket (3+)
€169 p.p.
Early-bird Single-Person Ticket
€225
Standard Team Ticket (3+)
€189 p.p.
Standard Single-Person Ticket
€295
New session dates being announced soon FOR JULY/AUGUST PROGRAMS.
NOTE: If you have a group of 25 or more participants you should talk to us about the cost and timing advantages of a customised in-house program.
Your Guide: Deiric McCann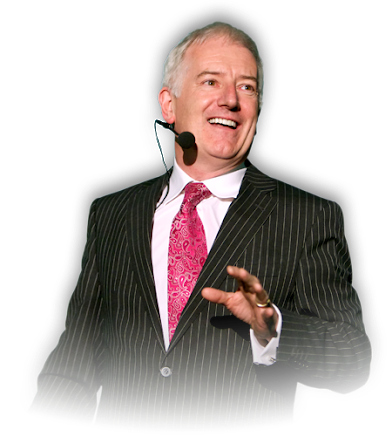 Deiric McCann is Head of International for Genos International, a world-leading provider of Emotional Intelligence assessments and education offerings. He is responsible for 1500 partners worldwide. Author of Leadership Charisma and several other books that emphasise the critical role of engaging people to achieve business success, his particular expertise is in helping clients and partners implement EI-based solutions that deliver measurable Return on Investment – something he speaks upon regularly around the world. An accredited and experienced teacher of the
Search Inside Yourself Mindful Leadership Program
developed by Google, a Genos Master Certifier, and creator of the
Mindful Leader
and
Mindful & Emotionally Intelligent Salesperson
programs, Deiric is a vibrant and engaging presenter who enjoys
great feedback on all his programs.
What attendees say about Genos Resilience Programs

"…The feedback from the team was fantastic and everyone mentioned your Resilience Workshop was the highlight of the session.
The pragmatic nature of the content, your delivery style and participation throughout the session was superb."
"Thanks again to both of you for such warmth, clarity and insight – it could not have been better timed!
You guys have such a generous spirit and model the behaviours so beautifully"
"Reduced stress, helped me to focus on the right things, gave me calmer sleep"
"…really helped me to see how the course and techniques you have been covering can be applicable to really stressful, real-life events!"
LEARN HOW TO COMBAT STRESS WITH NEUROSCIENCE, MINDFULNESS AND EMOTIONAL INTELLIGENCE