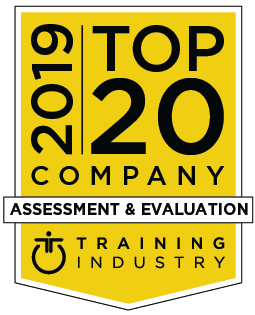 Training Industry this week announced its selections for the 2019 Top Training Companies™ lists for the assessment and evaluation sector of the learning and development market. Genos International were listed in the Top 20 Assessment & Evaluation Companies 2019. This is the third year running for Genos to receive this award.
Training Industry, the leading research and information resource for corporate learning leaders, prepares the Training Industry Top 20 report on critical sectors of the training marketplace to better inform professionals about the best and most innovative providers of training services and technologies.
View the 2019 Top 20 Assessment and Evaluation Companies and Watch List
Selection to the 2019 Training Industry Top 20™ Assessment and Evaluation Companies List was based on the following criteria:
1. Diversity of assessment capabilities.
2. Quality and innovation of evaluation techniques.
3. Company size and growth potential.
4. Quality and number of clients/users.
5. Awards, recognition and competitive differentiation.

"This year's Top 20 Assessment and Evaluation Companies are leading the way in helping organizations understand and meet their training needs, from assessing leadership potential and succession planning to early skill assessment even before hiring," said Ken Taylor, president of Training Industry, Inc. "These companies are creating comprehensive assessment experiences by using innovative approaches, including business simulations that evaluate on-the-job encounters, and using advanced reporting and analytics for easy-to-understand results."
About Training Industry, Inc.
Training Industry is the most trusted source of information on the business of learning. Their authority is built on deep ties with more than 450 expert contributors who share insights and actionable information with their peers annually. Training Industry's live events, articles, magazine, webinars, podcast, research and reports generate more than five million industry interactions each year, while the Top 20 Training Companies Lists help business leaders find the right training partners.
Learn more about Genos International.