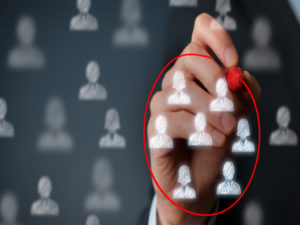 In this article I am going to speak about defining your target audience as a coach or consultant, this should be one of the very first steps you take when setting up your coaching or consulting business, and will in the long run be one of the most important tasks you undertake.
As a coach or consultant, the very first thing you need to do is to set your area of expertise and match it with an audience that will be receptive and enthusiastic about what you have to offer.
Remember: If you are marketing to everyone as a strategy, then ultimately you are marketing to no one. Targeting your demographic is the secret to your success.
1. Identify the problem your coaching or consultancy service solves.
By really drilling down into your service and asking yourself what problems you can solve for a client, your target audience will slowly start to emerge.
Who are these people that can benefit from your service, have they got a budget to spend and will you stand out from the competition?
2. Identify a demographic.
Once you have identified the types of individuals or businesses that can benefit from your services, you will then need to break that down further.
Age: What age group are your services likely to benefit?
Geographic Location: Where are your potential clients based?
Earnings: What does your potential client earn, set a range for yourself and try to
stick to this.
Sex: Does your service aim to coach both male and female clients or are you
targeting a certain group?
Niche: What sector does your ideal client work in?
3. Visualise your ideal client whether that is a business or an individual and create a profile for them, heck; give them a name and a personality to boot!
Now you will know your clients before they know they need you.
Let's take an example for a health and lifestyle coach, marketing directly to individual clients as opposed to businesses:
Name: John D.
Age: mid 20's to mid 40's.
Spending power: Earns between €40,000 and €80,000 per annum.
Lives: In a city centre or suburban area within 100km of your base.
Family: Single or married with or without children
Interests: Reading, socialising, watching movies and cooking
Aspirations: Wants to kick a bad habit, look better, lose weight, have children.
By creating this profile of your ideal client, you can immediately set a target audience for your consultancy or coaching business.
Feel free to add other values such as weight, height, education, occupation etc. to further fill out your ideal profile. Ask yourself what you need to know about an individual or business in order to market to them successfully.
4. Identify where the spending power is.
Before you start marketing to your ideal client, you need to know who has the spending power. Particularly when marketing to a business or group, it is inherent that you are talking to the right people. There's absolutely no point in spending valuable time and effort marketing to someone who has no influence over the purse strings.
You will want to identify one or all of the following individuals within your target organisation:
The individual who wants to use your service within the group or business you are targeting.
The individual who influences those who place the order and make the payment.
The individual who makes the decision to pay for your coaching or consultancy service.
The individual that will ultimately pays for your consultancy or coaching service.
5. Motivation
Now it's time to determine the motivation behind a purchase. What will motivate your target audience to book you as a coach or consultant? The motivations for business owners will most likely differ from individuals so keep this in mind. Within
organisations, the motivations will most likely include:
Increasing revenue
Raising staff morale
Keeping key players within an organisation
Promotional opportunities
Problem solving
Conflict management
By identifying the motivations of your target audience, you can then begin to market with confidence by addressing any issues they may be having and targeting their problem areas by providing solutions.
I hope you find that once the above steps have been followed, a clear plan of action will begin to emerge. Personally, I have found that creating a spread sheet for each organisation or individual I am marketing to, allows me to further drill down to what they really need, even if they don't know it yet! Take the time to really explore how you can make life better for both individuals and organisations. You now have a very clear target audience that will be receptive to your coaching or consulting business.