sss

Take the
  Global Resilience Challenge
Life-changing practices to integrate into your life, building a sense of purpose and the confidence to deal with the everyday stresses of life. This program was originally 'The Resilient Ireland Challenge' but due to the current impact of Coronavirus, we have opened it up to the world as a self-paced course.
Learn to become a less stressed, more resilient and happier you.
This course is now closed, please visit our Resilience Program page for more.

The Coronavirus threat is unprecedented – and so is the level of stress and fear it is likely to strike into the hearts of many members of your team, and people paralysed with fear can not bring their best to the challenges your business is facing.
In four 60-minute sessions you can change your mindset to one that will help you weather this storm more effectively, and remain engaged and productive throughout.
If you ever find yourself feeling worn down and fatigued by stress; if you ever wonder 'what's this all about?'; or if you simply never seem to get a moment to step off the treadmill of life to take a few moments for yourself to just be, then this resilience training program is for you.
Stress isn't an unusual feeling—especially at work. Stress is a perfectly normal reaction to the pressure of the lives we live today. You've experienced it, and sometimes it probably even helped you to perform better. But frequent and consistent stress will cause a dramatic decline in your productivity, your joy for life and your overall health.
Discover the interesting research on the neuroscience of stress along with proven mindfulness and emotional intelligence practices that will equip you with the practical skills to build the deep resilience you need to deal with the stress of life.
We're offering this program completely FREE as part of the Genos Social Responsibility Program.
Take the Global Resilience Challenge – invest just four hours in yourself.

4 X 60-MINUTE SESSIONS…
…BUILD A MORE RESILIENT, LESS STRESSED, AND HAPPIER YOU
SESSION 1: A 3-STEP STRATEGY FOR A MORE RESILIENT YOU
During this program we are going to work together on a three-part strategy for
building the resilience we all need
to thrive in this frantic world. Uncover the deep research on the three main ways to build resilience:
Developing Inner Calm
Building up your Emotional Resilience
Enhancing your Cognitive Resilience
You'll learn easy practices that you can start to apply right away to begin your quest for a more resilient approach to life.
SESSION 2: DEVELOPING INNER CALM
When you come to life from a place of calm everything looks different – and you tend to show up as your 'best self'.
Think of the last time when your mind was calm and you felt good about everything. Didn't everything seem so much easier? Didn't there seem to be so much more light in your world? Weren't you more optimistic and ambitious, seeing opportunities all around you?
In this session we're going to dive into well-being and mindfulness to learn two physiological and one mental practice that you can apply immediately to start building this inner calm.
SESSION 3: BUILDING UP YOUR EMOTIONAL RESILIENCE
It's easy to be stress free when things are going well. But the reality of life is that there are good days and bad days, good periods and bad periods – and being able to deal with both is key to mental wellbeing and happiness.
Emotional Resilience is simply the ability to 'roll with the punches' – to adapt to adversity in a way that doesn't see challenging times sucking all of the good out of our lives.
Research shows that those who deal with everyday stresses effectively can also more effectively manage major crises.
In this session we'll begin practices designed to build your Emotional Resilience to deal with everyday challenges.
SESSION 4: ENHANCING YOUR COGNITIVE RESILIENCE
One of the best survival adaptations we enjoy as humans is the genetic programming that makes us pay 3 to 5 times more attention to negative events (threats) in our lives than we do to positive events.
Unfortunately, this finely-tuned survival mechanism is also the greatest source of stress and mental 'dis-ease' – causing us to spend more of our time focused on all of the things that go wrong in our lives – so that often miss the good things that make life worth living.
But this can be changed – research on neuroplasticity shows that you can change the way your brain works. You can train it to look for the good in life, and to deal with challenges and threats more effectively.
This is called Cognitive Resilience, and in this session you'll learn how to start reprogramming your brain to be much less affected by the setbacks we all suffer, and to pay more attention to the causes for celebration that often slip under our radar.
The Global Resilience Challenge was originally The Resilient Ireland Challenge and held live/online in March 2020. Sign up today for the self-paced version of this program.
Receive 4 one hour recordings delivered to your inbox in this self-paced program.
The course is offered free of charge as part of Genos International Europe Social Responsibility Programs.
eu@genosinternational.com for media contact
BUILD YOUR RESILIENCE WITH THE
GENOS JOURNALING APP
Research shows that highly resilient people tend to have a clear sense of vision, great self-awareness and a deep sense of gratitude.
To support you with the weekly assignments, you'll receive completely access to the Genos Journaling App for your iPhone or Android device.
This unique app will help you discover things about your motivations and strengths that will help you to develop a stronger sense of joy and resilience, both during and for many months after the program.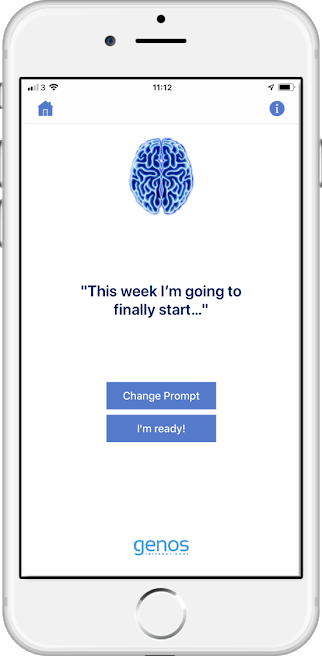 Your Guide
Deiric McCann
Deiric McCann is Director of Genos International Europe , a world-leading provider of Emotional Intelligence solutions. He works with a large range of multi-national clients helping them to develop the resilience, emotional intelligence and engagement of their teams. Author of Leadership Charisma and several other books that emphasise the critical role of engaging people to achieve business success, his particular expertise is in helping clients and partners implement EI and Psychological Safety-based solutions that deliver measurable Return on Investment – something he speaks upon regularly around the world. A TEDx speaker and an accredited teacher of the Search Inside Yourself Mindful Leadership Program developed by Google, Deiric regularly delivers emotional intelligence, psychological safety, resilience, and mindfulness training worldwide to extremely positive reviews.
Total Views: 665 ,